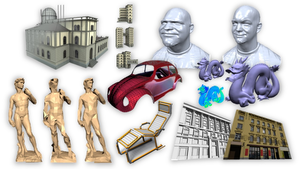 Abstract
One of the major bottlenecks in the field of computer graphics is the one of content creation, particularly the creation of high-quality 3D geometric models. These models are a demand in many industries, such as entertainment, computer-aided design, urban planning, the fabrication of physical objects, as well as research areas like medical or scientific visualizations and simulations.

While rendering - the classical field of computer graphics - has reached very high standards in the recent two decades, the issue of the creation of appropriate digital models is a difficult problem that hardly keeps pace with current demands. Indeed, it is a complex creative process that involves both artistic and technical skills.

To make this process easier, our goal in this research area is to find new methods and algorithms that facilitate creation, representation, analysis and processing of 3D models.
Publications
65 Publications found:
Image
Bib Reference
Publication Type
2003
Georg Zotti, Christoph Traxler
A Multi-Purpose Virtual Reality Model of the Solar System (VRMoSS)
TR-186-2-03-01, February 2003 [paper]
Technical Report
Georg Zotti, Christoph Traxler
The ASH Virtual Reality Model of the Solar System (VRMoSS)
In Proc. of the Third IASTED Int. Conf. on Visualization, Imaging, and Image Processing, pages 964-969. 2003.

Conference Paper
2002
Robert F. Tobler, Stefan Maierhofer, Alexander Wilkie
Mesh-Based Parametrized L-Systems and Generalized Subdivision for Generating Complex Geometry
International Journal of Shape Modeling, 8(2):173-191, 2002.
Journal Paper (without talk)
Stefan Maierhofer
Rule-Based Mesh Growing and Generalized Subdivision Meshes
Supervisor: Werner Purgathofer
Duration: - Januar 2002
[pdf]
PhD-Thesis
Robert F. Tobler, Stefan Maierhofer, Alexander Wilkie
A Multiresolution Mesh Generation Approach for Procedural Definition of Complex Geometry
In Shape Modeling International 2002, pages 35-42. 2002.

Conference Paper
1996
Christoph Traxler, Michael Gervautz
Using Genetic Algorithms to Improve the Visual Quality of Fractal Plants Generated with CSG-PL-Systems
TR-186-2-96-04, January 1996 [paper]
Technical Report
1995
Meister Eduard Gröller, R. T. Rau, Wolfgang Straßer
Simulation und Darstellung computergenerierter Strickware
TR-186-2-95-15, November 1995 [paper]
Technical Report
Meister Eduard Gröller, R. T. Rau, Wolfgang Straßer
Modeling and Visualization of Knitwear
IEEE Transaction on Visualization and Computer Graphics, 1(4), 1995.
Journal Paper (without talk)
1993
Michael Gervautz
The Use of BSP-Trees for Solid Modelling
In Proceedings of International Conference on Computer Graphics ICCG'93, pages 75-95. June 1993.

Conference Paper
Michael Zeiller
Collision detection for objects modelled by CSG
In Visualization and Intelligent Design in Engineering and Architecture, April 1993
Article in a Book
1992
Peter Ferschin, Michael Gervautz
Konstruktive Hilfsmittel für den CAD- Einsatz bei Architekten
In CAAD-Forum. October 1992.

Conference Paper
Gerhard Hieß
Combining CAD-Systems EUCLID-IS with Rendering System RISS
In Proceedings of 8th spring school on computer graphics. May 1992.

Conference Paper
Meister Eduard Gröller
Fractals and Solid Modeling
In Proceedings of Eurographics'92. 1992.

Conference Paper
1989
J Griessmair, Werner Purgathofer
Deformation of Solids with Trivariate B-Splines
In Proceedings fo Eurographics. September 1989.

Conference Paper
Michael Gervautz
SOL An Object Description Language for Solid Modelling
In Conference Proceedings of International Conference on CAD & CG. 1989.

Conference Paper
Bibtex
,
HTML
(
Advanced
,
Expert
),
JSON
(
with referenced objects
),
CSV
Funded Projects