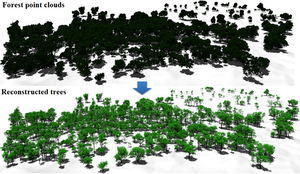 Efficient Tree Modeling from Airborne LiDAR Point Clouds
Shaojun Hu, Zhengrong Li, Zhiyi Zhang, Dongijan He,
Michael Wimmer
Efficient Tree Modeling from Airborne LiDAR Point Clouds
Computers & Graphics
, 67:1-13, October 2017.
[

draft]
Information
Publication Type: Journal Paper (without talk)
Workgroup(s)/Project(s):
Date: October 2017
ISSN: 0097-8493
Journal: Computers & Graphics
Pages (from): 1
Pages (to): 13
Volume: 67
Keywords: tree modeling, LIDAR, point clouds
Abstract
Modeling real-world trees is important in many application areas, including computer graphics, botany and forestry. An example of a modeling method is reconstruction from light detection and ranging (LiDAR) scans. In contrast to terrestrial LiDAR systems, airborne LiDAR systems – even current high-resolution systems – capture only very few samples on tree branches, which makes the reconstruction of trees from airborne LiDAR a challenging task. In this paper, we present a new method to model plausible trees with fine details from airborne LiDAR point clouds. To reconstruct tree models, first, we use a normalized cut method to segment an individual tree point cloud. Then, trunk points are added to supplement the incomplete point cloud, and a connected graph is constructed by searching sufficient nearest neighbors for each point. Based on the observation of real-world trees, a direction field is created to restrict branch directions. Then, branch skeletons are constructed using a bottom-up greedy algorithm with a priority queue, and leaves are arranged according to phyllotaxis. We demonstrate our method on a variety of examples and show that it can generate a plausible tree model in less than one second, in addition to preserving features of the original point cloud.
Additional Files and Images
Weblinks
No further information available.
BibTeX

@article{HU-2017-ETM,
  title =      "Efficient Tree Modeling from Airborne LiDAR Point Clouds",
  author =     "Shaojun Hu and Zhengrong Li and Zhiyi Zhang and Dongijan He
               and Michael Wimmer",
  year =       "2017",
  abstract =   "Modeling real-world trees is important in many application
               areas, including computer graphics, botany and forestry. An
               example of a modeling method is reconstruction from light
               detection and ranging (LiDAR) scans. In contrast to
               terrestrial LiDAR systems, airborne LiDAR systems – even
               current high-resolution systems – capture only very few
               samples on tree branches, which makes the reconstruction of
               trees from airborne LiDAR a challenging task. In this paper,
               we present a new method to model plausible trees with fine
               details from airborne LiDAR point clouds. To reconstruct
               tree models, first, we use a normalized cut method to
               segment an individual tree point cloud. Then, trunk points
               are added to supplement the incomplete point cloud, and a
               connected graph is constructed by searching sufficient
               nearest neighbors for each point. Based on the observation
               of real-world trees, a direction field is created to
               restrict branch directions. Then, branch skeletons are
               constructed using a bottom-up greedy algorithm with a
               priority queue, and leaves are arranged according to
               phyllotaxis. We demonstrate our method on a variety of
               examples and show that it can generate a plausible tree
               model in less than one second, in addition to preserving
               features of the original point cloud.",
  month =      oct,
  issn =       "0097-8493",
  journal =    "Computers & Graphics",
  volume =     "67",
  pages =      "1--13",
  keywords =   "tree modeling, LIDAR, point clouds",
  URL =        "https://www.cg.tuwien.ac.at/research/publications/2017/HU-2017-ETM/",
}