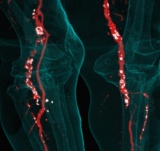 Angiographic Visualization Project
Project start
:2002
Funding:
FWF
Contact:
Eduard Gröller
General Information
This project deals with post-processing and visualization of large CTA datasets of the peripheral extremities. The aim of this project is to develop a diagnosis tool for detection and classification of arterial diseases in routine clinical use. The goals cover:

Developing highly reliable visualization methods.
Speeding up post-processing by introducing automatic and semi-automatic tools.
Optimising the clinical workflow.
Publications


Non-linear Model Fitting to Parameterize Diseased Blood Vessels

Alexandra La Cruz, Matus Straka, Arnold Köchl, Milos Sramek, Eduard Gröller, Dominik Fleischmann. In proceedings of IEEE Visualization 2004, Austin, USA.
[Full Paper] [BibTeX Entry]



The VesselGlyph: Focus & Context Visualization in CT-Angiography

Matus Straka, Michal Cervenansky, Alexandra La Cruz, Arnold Köchl, Milos Sramek, Eduard Gröller, Dominik Fleischmann. In proceedings of IEEE Visualization 2004, Austin, USA.
[Full Paper] [BibTeX Entry]



Accuracy Evaluation of Different Centerline Approximations of Blood Vessels

Alexandra La Cruz. In Proceedings of Symposium on Visualization 2004. Joint EUROGRAPHICS - IEEE TCVG. May 19-21 Konstanz, GER
[Full Paper] [BibTeX Entry]



Accuracy of Automated Centerline Approximation Algorithms for Lower Extremity vessels in a CTA Phantom
A. La Cruz, M. Straka, A. Köchl, M. Sramek, Gröller E., Fleischmann D. ECR 2004
[Electronic Poster]


3D Watershed Transform Combined with a Probabilistic Atlas for Medical Image Segmentation

Matus Straka, Alexandra La Cruz, Arnold Köchl, Milos Sramek, Eduard Gröller, Dominik Fleischmann. In proceedings of MIT2003
[Full Paper] [BibTeX Entry]


Bone Segmentation in CT-Angiography Data Using a Proabilistic Atlas
Matus Straka, Alexandra La Cruz, Leonid I. Dimitrov, Milos Sramek, Dominik Fleischmann, Eduard Gröller. In proceedings of VISION, MODELING, AND VISUALIZATION 2003 (VMV2003)
[Full Paper] [BibTeX Entry]


A Probabilistic Atlas of the Lower Extremity Bones
M. Straka, Sramek M.., La Cruz A., Fleischmann D., Gröller E. ECR 2003
[ElectronicPoster]


Computed Tomography Angiography: A Case Study of Peropheral Vessel Investigation
In proceedings of IEEE Visualization 2001.
[Full Paper] [[BibTeX Entry]



Advanced Visualization Techniques for Vessel Investigation
Diploma Thesis Armin Kanitzar
[Thesis] [BibTeX Entry]