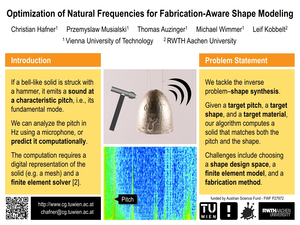 Optimization of Natural Frequencies for Fabrication-Aware Shape Modeling
Christian Hafner
,
Przemyslaw Musialski
,
Thomas Auzinger
,
Michael Wimmer
,
Leif Kobbelt
Optimization of Natural Frequencies for Fabrication-Aware Shape Modeling
Poster shown at ACM SIGGRAPH 2015 ( 9. August 2015-13. August 2015) In
Proceedings of ACM SIGGRAPH 2015 Posters
.
[

abstract] [

eposter] [

thumbnail] [

video]
Information
Publication Type: Poster
Workgroup(s)/Project(s):
Date: August 2015
Accepted: 02.06.2015
Booktitle: Proceedings of ACM SIGGRAPH 2015 Posters
Date (from): 9. August 2015
Date (to): 13. August 2015
Event: ACM SIGGRAPH 2015
Location: Los Angeles, CA, USA
Note: Lecturer: P. Musialski
Publisher: ACM
Keywords: natural frequencies, modal analysis, shape optimization
Abstract
Given a target shape and a target frequency, we automatically synthesize a shape that exhibits this frequency as part of its natural spectrum, while resembling the target shape as closely as possible. We employ finite element modal analysis with thin-shell elements to accurately predict the acoustic behavior of 3d solids. Our optimization pipeline uses an input surface and automatically calculates an inner offset surface to describe a volumetric solid. The solid exhibits a sound with the desired pitch if fabricated from the targeted material. In order to validate our framework, we optimize the shape of a tin bell to exhibit a sound at 1760 Hz. We fabricate the bell by casting it from a mold and measure the frequency peaks in its natural ringing sound. The measured pitch agrees with our simulation to an accuracy of 2.5%. In contrast to previous method, we only use reference material parameters and require no manual tuning.
Additional Files and Images
Additional images and videos
Additional files
Weblinks
No further information available.
BibTeX

@misc{hafner-2015-onff,
  title =      "Optimization of Natural Frequencies for Fabrication-Aware
               Shape Modeling",
  author =     "Christian Hafner and Przemyslaw Musialski and Thomas
               Auzinger and Michael Wimmer and Leif Kobbelt",
  year =       "2015",
  abstract =   "Given a target shape and a target frequency, we
               automatically synthesize a shape that exhibits this
               frequency as part of its natural spectrum, while resembling
               the target shape as closely as possible. We employ finite
               element modal analysis with thin-shell elements to
               accurately predict the acoustic behavior of 3d solids. Our
               optimization pipeline uses an input surface and
               automatically calculates an inner offset surface to describe
               a volumetric solid. The solid exhibits a sound with the
               desired pitch if fabricated from the targeted material. In
               order to validate our framework, we optimize the shape of a
               tin bell to exhibit a sound at 1760 Hz. We fabricate the
               bell by casting it from a mold and measure the frequency
               peaks in its natural ringing sound. The measured pitch
               agrees with our simulation to an accuracy of 2.5%. In
               contrast to previous method, we only use reference material
               parameters and require no manual tuning.",
  month =      aug,
  booktitle =  "Proceedings of ACM SIGGRAPH 2015 Posters",
  event =      "ACM SIGGRAPH 2015",
  location =   "Los Angeles, CA, USA",
  note =       "Lecturer: P. Musialski",
  publisher =  "ACM",
  note =       "Poster presented at ACM SIGGRAPH 2015
               (2015-08-09--2015-08-13)",
  keywords =   "natural frequencies, modal analysis, shape optimization",
  URL =        "https://www.cg.tuwien.ac.at/research/publications/2015/hafner-2015-onff/",
}