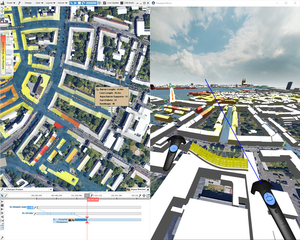 Master of Disaster: Virtual-Reality Response Training in Disaster Management
Katharina Krösl
, Harald Steinlechner, Johanna Donabauer, Daniel Cornel,
Jürgen Waser
Master of Disaster: Virtual-Reality Response Training in Disaster Management
Poster shown at VRCAI 2019 (14. November 2019-16. November 2019)
[

extended abstract] [

poster] [

video]
Information
Publication Type: Poster
Workgroup(s)/Project(s):
Date: November 2019
Call for Papers: Call for Paper
Date (from): 14. November 2019
Date (to): 16. November 2019
Event: VRCAI 2019
ISBN: 978-1-4503-7002-8
Journal: Proceeding VRCAI '19 The 17th International Conference on Virtual-Reality Continuum and its Applications in Industry Article No. 49
Location: Brisbane, Australia
Keywords: virtual reality, flood simulation, disaster training
Abstract
To be prepared for flooding events, disaster response personnel has to be trained to execute developed action plans. We present a flood response training system which connects an interactive flood simulation with a VR client. The collaborative operator-trainee setup of our system allows a trainee to steer the remote simulation from within the virtual environment, evaluate the effectiveness of deployed protection measures, and compare the results across multiple simulation runs. An operator supervises the trainee's actions from a linked desktop application to provide assistance in complex tasks. The versatility of our system is demonstrated on four different city models.
Additional Files and Images
Additional images and videos
Additional files

extended abstract
: author's version
Weblinks
BibTeX

@misc{kroesl-2019-MoD,
  title =      "Master of Disaster: Virtual-Reality Response Training in
               Disaster Management",
  author =     "Katharina Kr\"{o}sl and Harald Steinlechner and Johanna
               Donabauer and Daniel Cornel and J\"{u}rgen  Waser",
  year =       "2019",
  abstract =   "To be prepared for flooding events, disaster response
               personnel has to be trained to execute developed action
               plans. We present a flood response training system which
               connects an interactive flood simulation with a VR client.
               The collaborative operator-trainee setup of our system
               allows a trainee to steer the remote simulation from within
               the virtual environment, evaluate the effectiveness of
               deployed protection measures, and compare the results across
               multiple simulation runs. An operator supervises the
               trainee's actions from a linked desktop application to
               provide assistance in complex tasks. The versatility of our
               system is demonstrated on four different city models.",
  month =      nov,
  doi =        "10.1145/3359997.3365729",
  event =      "VRCAI 2019",
  isbn =       "978-1-4503-7002-8",
  journal =    "Proceeding VRCAI '19 The 17th International Conference on
               Virtual-Reality Continuum and its Applications in Industry
               Article No. 49",
  location =   "Brisbane, Australia",
  note =       "Poster presented at VRCAI 2019 (2019-11-14--2019-11-16)",
  keywords =   "virtual reality, flood simulation, disaster training",
  URL =        "https://www.cg.tuwien.ac.at/research/publications/2019/kroesl-2019-MoD/",
}