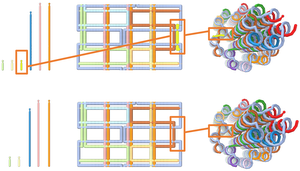 DimSUM: Dimension and Scale Unifying Maps for Visual Abstraction of DNA Origami Structures
Haichao Miao
, Elisa De Llano,
Tobias Isenberg
,
Meister Eduard Gröller
, Ivan Barisic,
Ivan Viola
DimSUM: Dimension and Scale Unifying Maps for Visual Abstraction of DNA Origami Structures
Computer Graphics Forum
, 37(3), June 2018.
[

Paper]
Information
Publication Type: Journal Paper with Conference Talk
Workgroup(s)/Project(s):
Date: June 2018
Date (from): June 2017
Date (to): June 2018
Event: EuroVis Conference 2018
Journal: Computer Graphics Forum
Lecturer: Haichao Miao
Location: Brno, Czech Republic
Number: 3
Volume: 37
Abstract
No abstract.
Additional Files and Images
Weblinks
No further information available.
BibTeX

@article{miao2018Dimsum,
  title =      "DimSUM: Dimension and Scale Unifying Maps for Visual
               Abstraction of DNA Origami Structures",
  author =     "Haichao Miao and Elisa De Llano and Tobias Isenberg and
               Meister Eduard Gr\"{o}ller and Ivan Barisic and Ivan Viola",
  year =       "2018",
  month =      jun,
  journal =    "Computer Graphics Forum",
  number =     "3",
  volume =     "37",
  URL =        "https://www.cg.tuwien.ac.at/research/publications/2018/miao2018Dimsum/",
}