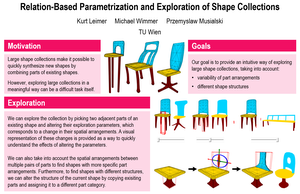 Relation-Based Parametrization and Exploration of Shape Collections
Kurt Leimer
,
Michael Wimmer
,
Przemyslaw Musialski
Relation-Based Parametrization and Exploration of Shape Collections
Poster shown at ACM SIGGRAPH 2016 (24. July 2016-28. July 2016) In
ACM SIGGRAPH 2016 Posters
, pages 34:1-34:1.
[

abstract] [

poster] [

video]
Information
Publication Type: Poster
Workgroup(s)/Project(s):
Date: July 2016
Accepted: 24.05.2016
Booktitle: ACM SIGGRAPH 2016 Posters
Date (from): 24. July 2016
Date (to): 28. July 2016
Event: ACM SIGGRAPH 2016
ISBN: 978-1-4503-4371-8
Location: Anaheim, CA, USA
Pages (from): 34:1
Pages (to): 34:1
Publisher: ACM
Keywords: 3D database exploration, shape analysis, shape collections
Abstract
With online repositories for 3D models like 3D Warehouse becoming more prevalent and growing ever larger, new possibilities have opened up for both experienced and inexperienced users alike. These large collections of shapes can provide inspiration for designers or make it possible to synthesize new shapes by combining different parts from already existing shapes, which can be both easy to learn and a fast way of creating new shapes.
But exploring large shape collections or searching for particular kinds of shapes can be difficult and time-consuming tasks as well, especially considering that online repositories are often disorganized. In our work, we propose a relation-based way to parametrize shape collections, allowing the user to explore the entire set of shapes by controlling a small number of parameters.
Additional Files and Images
Additional images and videos
Additional files
Weblinks
No further information available.
BibTeX

@misc{leimer-2016-rpe,
  title =      "Relation-Based Parametrization and Exploration of Shape
               Collections",
  author =     "Kurt Leimer and Michael Wimmer and Przemyslaw Musialski",
  year =       "2016",
  abstract =   "With online repositories for 3D models like 3D Warehouse
               becoming more prevalent and growing ever larger, new
               possibilities have opened up for both experienced and
               inexperienced users alike. These large collections of shapes
               can provide inspiration for designers or make it possible to
               synthesize new shapes by combining different parts from
               already existing shapes, which can be both easy to learn and
               a fast way of creating new shapes.  But exploring large
               shape collections or searching for particular kinds of
               shapes can be difficult and time-consuming tasks as well,
               especially considering that online repositories are often
               disorganized. In our work, we propose a relation-based way
               to parametrize shape collections, allowing the user to
               explore the entire set of shapes by controlling a small
               number of parameters.",
  month =      jul,
  booktitle =  "ACM SIGGRAPH 2016 Posters",
  event =      "ACM SIGGRAPH 2016",
  isbn =       "978-1-4503-4371-8",
  location =   "Anaheim, CA, USA",
  publisher =  "ACM",
  note =       "Poster presented at ACM SIGGRAPH 2016
               (2016-07-24--2016-07-28)",
  pages =      "34:1--34:1",
  keywords =   "3D database exploration, shape analysis, shape collections",
  URL =        "https://www.cg.tuwien.ac.at/research/publications/2016/leimer-2016-rpe/",
}