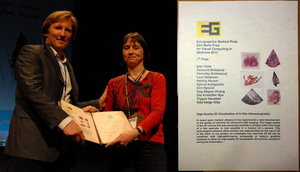 High-Quality 3D Visualization of In-Situ Ultrasonography
Ivan Viola
,
Åsmund Birkeland
, Veronika Šoltészová, Linn Helljesen,
Helwig Hauser
, Spiros Kotopoulis, Kim Nylund, Dag Magne Ulvang, Ola Kristoffer Øye, Trygve Hausken, Odd Helge Gilja
High-Quality 3D Visualization of In-Situ Ultrasonography
In
EG 2013 - Dirk Bartz Prize
, pages 1-4. May 2013.
[

Paper]
Information
Publication Type: Conference Paper
Workgroup(s)/Project(s):
Date: May 2013
Booktitle: EG 2013 - Dirk Bartz Prize
Date (from): 6. May 2013
Date (to): 10. May 2013
Lecturer: Ivan Viola
Location: Girona, Spain
Note: 1st Prize - Medical Prize Short Paper
Pages (from): 1
Pages (to): 4
Publisher: Eurogrpahics
Abstract
In recent years medical ultrasound has experienced a rapid development in the quality of real-time 3D ultrasound (US) imaging. The image quality of the 3D volume that was previously possible to achieve within the range of a few seconds, is now possible in a fraction of a second. This technological advance offers entirely new opportunities for the use of US in the clinic. In our project, we investigate how real-time 3D US can be combined with high-performance processing of today's graphics hardware to allow for high-quality 3D visualization and precise navigation during the examination.
Additional Files and Images
Additional images and videos
Additional files
Weblinks
No further information available.
BibTeX

@inproceedings{Viola_Ivan_2013_HQ3,
  title =      "High-Quality 3D Visualization of In-Situ Ultrasonography",
  author =     "Ivan Viola and {\AA}smund Birkeland and Veronika
               \v{S}olt\'{e}szov\'{a} and Linn Helljesen and Helwig Hauser
               and Spiros Kotopoulis and Kim Nylund and Dag Magne Ulvang 
               and Ola Kristoffer Øye and Trygve Hausken and Odd Helge
               Gilja",
  year =       "2013",
  abstract =   "In recent years medical ultrasound has experienced a rapid
               development in the quality of real-time 3D ultrasound (US)
               imaging. The image quality of the 3D volume that was
               previously possible to achieve within the range of a few
               seconds, is now possible in a fraction of a second. This
               technological advance offers entirely new opportunities for
               the use of US in the clinic. In our project, we investigate
               how real-time 3D US can be combined with high-performance
               processing of today's graphics hardware to allow for
               high-quality 3D visualization and precise navigation during
               the examination.",
  month =      may,
  booktitle =  "EG 2013 - Dirk Bartz Prize",
  location =   "Girona, Spain",
  note =       "1st Prize - Medical Prize Short Paper",
  publisher =  "Eurogrpahics",
  pages =      "1--4",
  URL =        "https://www.cg.tuwien.ac.at/research/publications/2013/Viola_Ivan_2013_HQ3/",
}