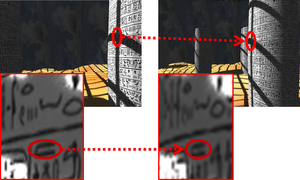 An Overview of Temporal Coherence Methods in Real-Time Rendering
Daniel Scherzer
An Overview of Temporal Coherence Methods in Real-Time Rendering
In
14th International Conference on System Theory and Control 2010
, pages 497-502. October 2010.
[

pdf]
Information
Publication Type: Conference Paper
Workgroup(s)/Project(s):
Date: October 2010
Booktitle: 14th International Conference on System Theory and Control 2010
Date (from): 17. October 2010
Date (to): 19. October 2010
ISSN: 2068-0465
Lecturer: Daniel Scherzer
Location: Sinaia, Romania
Organization: IEEE
Pages (from): 497
Pages (to): 502
Abstract
Most of the power of modern graphics cards is put into the acceleration of shading tasks because here lies the major bottleneck for most sophisticated real-time algorithms. By using temporal coherence, i.e. reusing shading information from a previous frame, this problem can be alleviated. This paper gives an overview of the concepts of temporal coherence in real-time rendering and should give the reader the working practical and theoretical knowledge to exploit temporal coherence in his own algorithms.
Additional Files and Images
Additional images and videos
Additional files
Weblinks
No further information available.
BibTeX

@inproceedings{scherzer2010e,
  title =      "An Overview of Temporal Coherence Methods in Real-Time
               Rendering  ",
  author =     "Daniel Scherzer",
  year =       "2010",
  abstract =   "Most of the power of modern graphics cards is put into the
               acceleration of shading tasks because here lies the major
               bottleneck for most sophisticated real-time algorithms. By
               using temporal coherence, i.e. reusing shading information
               from a previous frame, this problem can be alleviated. This
               paper gives an overview of the concepts of temporal
               coherence in real-time rendering and should give the reader
               the working practical and theoretical knowledge to exploit
               temporal coherence in his own algorithms. ",
  month =      oct,
  booktitle =  " 14th International Conference on System Theory and Control
               2010",
  issn =       "2068-0465",
  location =   "Sinaia, Romania",
  organization = "IEEE",
  pages =      "497--502",
  URL =        "https://www.cg.tuwien.ac.at/research/publications/2010/scherzer2010e/",
}