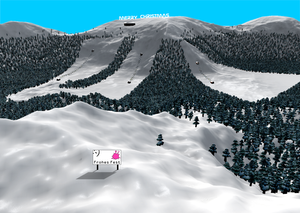 Information
Publication Type: X-Mas Card
Workgroup(s)/Project(s):
Date: 2005
Abstract
The card front shows a screenshot from "Yetti's Skipark Tycoon", one of the prize winners in this year's game development student course: Create your own ski resort & watch your happy guests being lifted up and ski down :-)
The back depicts the GameTools Project logo - one of the many projects the CG group at TU Vienna participates in (http://www.cg.tuwien.ac.at/projects).
Die Vorderseite der Weihnachtskarte zeigt einen Screenshot aus "Yetti's Skipark Tycoon", einer der Gewinner der heurigen Computerspieleentwicklungslaboruebung: Bauen Sie Ihr eigenes Skiresort & schauen Sie Ihren Gaesten beim vergnuegten Skilauf zu :-)
Die Rückseite ziert das GameTools Project Logo; GameTools ist eines der vielen Projekte, an denen die CG-Gruppe der TU Wien partizipiert (http://www.cg.tuwien.ac.at/projects). TU Wien - Computer Graphics Group Meisterhaft in Graphics
Idea & Artwork: Markus Giegl
Additional Files and Images
Additional images and videos
Additional files
Weblinks
No further information available.
BibTeX

@xmascard{xmas-2005,
  title =      "X-Mas 2005",
  author =     "Markus Giegl",
  year =       "2005",
  abstract =   "The card front shows a screenshot from "Yetti's Skipark
               Tycoon", one of the prize winners in this year's game
               development student course: Create your own ski resort &
               watch your happy guests being lifted up and ski down :-) 
               The back depicts the GameTools Project logo - one of the
               many projects the CG group at TU Vienna participates in
               (http://www.cg.tuwien.ac.at/projects). 	  Die Vorderseite
               der Weihnachtskarte zeigt einen Screenshot aus "Yetti's
               Skipark Tycoon", einer der Gewinner der heurigen
               Computerspieleentwicklungslaboruebung: Bauen Sie Ihr eigenes
               Skiresort & schauen Sie Ihren Gaesten beim vergnuegten
               Skilauf zu :-)  Die R\"{u}ckseite ziert das GameTools
               Project Logo; GameTools ist eines der vielen Projekte, an
               denen die CG-Gruppe der TU Wien partizipiert
               (http://www.cg.tuwien.ac.at/projects). TU Wien - Computer
               Graphics Group Meisterhaft in Graphics  Idea & Artwork:
               Markus Giegl",
  URL =        "https://www.cg.tuwien.ac.at/research/publications/2005/xmas-2005/",
}