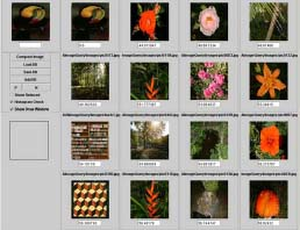 Tangible Image Query
Kresimir Matkovic
, Thomas Psik, Ina Wagner,
Werner Purgathofer
Tangible Image Query
In
Proceedings of Smart Graphics 2004
. May 2004.
[

pdf]
Information
Publication Type: Conference Paper
Workgroup(s)/Project(s): not specified
Date: May 2004
Booktitle: Proceedings of Smart Graphics 2004
Date (from): 23. May 2004
Date (to): 25. May 2004
Lecturer: Kresimir Matkovic
Location: Banff, Canada
Publisher: Springer
Abstract
This paper introduces a tangible user interface for browsing and retrieving images from an image database. The basis for the query to the image database is a color layout sketch, which is used by the underlying query algorithm to find the best matches. The users are provided with colored cubes of various sizes (1.5 to 4 cm) and colors (8 base colors). The users can place and arrange the colored cubes on a small table to create a color layout sketch. Multiple users can use this interface to collaborate in an image query. To evaluate the benefits of the interface, it is compared to a traditional GUI application in which the users use a mouse to create a color layout sketch.
Additional Files and Images
Weblinks
No further information available.
BibTeX

@inproceedings{matkovic-2004-tang,
  title =      "Tangible Image Query",
  author =     "Kresimir Matkovic and Thomas Psik and Ina Wagner and Werner
               Purgathofer",
  year =       "2004",
  abstract =   "This paper introduces a tangible user interface for browsing
               and retrieving images from an image database. The basis for
               the query to the image database is a color layout sketch,
               which is used by the underlying query algorithm to find the
               best matches. The users are provided with colored cubes of
               various sizes (1.5 to 4 cm) and colors (8 base colors). The
               users can place and arrange the colored cubes on a small
               table to create a color layout sketch. Multiple users can
               use this interface to collaborate in an image query. To
               evaluate the benefits of the interface, it is compared to a
               traditional GUI application in which the users use a mouse
               to create a color layout sketch.",
  month =      may,
  booktitle =  "Proceedings of Smart Graphics 2004",
  location =   "Banff, Canada",
  publisher =  "Springer",
  URL =        "https://www.cg.tuwien.ac.at/research/publications/2004/matkovic-2004-tang/",
}