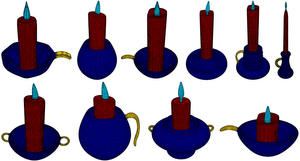 Information
Publication Type: Student Project
Workgroup(s)/Project(s):
Date: 2014
Date (from): 1. September 2014
Matrikelnummer: 0825842
First Supervisor: Przemyslaw Musialski
Type: Internship
Keywords: shape processing, shape segmentation, shape co-analysis
Abstract
This application serves as a framework for Co-Analysis, in which a set of meshes of a specific category (e.g. candelabra or chairs) is analysed in an attempt to group the parts constituting each mesh into semantic categories. This is achieved by first individually subdividing each mesh into smaller segments and then clustering the segments of all meshes based on their face-level features. In the example pictured above, the mesh parts are grouped into 4 distinct categories, each represented by a different color. Furthermore, the framework allows the selection of different algorithms for each step of the Co-Analysis pipeline and can also be easily extended by adding more algorithms.
Additional Files and Images
Weblinks
No further information available.
BibTeX

@studentproject{leimer-2014-fsco,
  title =      "A Framework for Shape Co-Analysis",
  author =     "Kurt Leimer",
  year =       "2014",
  abstract =   "This application serves as a framework for Co-Analysis, in
               which a set of meshes of a specific category (e.g.
               candelabra or chairs) is analysed in an attempt to group the
               parts constituting each mesh into semantic categories. This
               is achieved by first individually subdividing each mesh into
               smaller segments and then clustering the segments of all
               meshes based on their face-level features. In the example
               pictured above, the mesh parts are grouped into 4 distinct
               categories, each represented by a different color.
               Furthermore, the framework allows the selection of different
               algorithms for each step of the Co-Analysis pipeline and can
               also be easily extended by adding more algorithms. ",
  type =       "Internship",
  keywords =   "shape processing, shape segmentation, shape co-analysis",
  URL =        "https://www.cg.tuwien.ac.at/research/publications/2014/leimer-2014-fsco/",
}