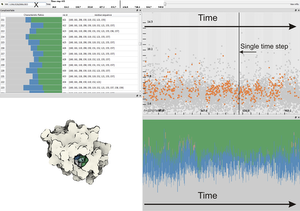 Visual cavity analysis in molecular simulations
Julius Parulek, Cagatay Turkay, Nathalie Reuter,
Ivan Viola
Visual cavity analysis in molecular simulations
BMC Bioinformatics
, 14(Suppl 19:S4 ):1-15, November 2013.
[

Paper]
Information
Publication Type: Journal Paper (without talk)
Workgroup(s)/Project(s):
Date: November 2013
ISSN: 1471-2105
Journal: BMC Bioinformatics
Number: Suppl 19:S4
Pages (from): 1
Pages (to): 15
Volume: 14
Abstract
Molecular surfaces provide a useful mean for analyzing interactions between biomolecules; such as identification and characterization of ligand binding sites to a host macromolecule. We present a novel technique, which extracts potential binding sites, represented by cavities, and characterize them by 3D graphs and by amino acids. The binding sites are extracted using an implicit function sampling and graph algorithms. We propose an advanced cavity exploration technique based on the graph parameters and associated amino acids. Additionally, we interactively visualize the graphs in the context of the molecular surface. We apply our method to the analysis of MD simulations of Proteinase 3, where we verify the previously described cavities and suggest a new potential cavity to be studied.
Additional Files and Images
Weblinks
BibTeX

@article{Viola_Ivan_2013_VCA,
  title =      "Visual cavity analysis in molecular simulations",
  author =     "Julius Parulek and Cagatay Turkay and Nathalie Reuter and
               Ivan Viola",
  year =       "2013",
  abstract =   "Molecular surfaces provide a useful mean for analyzing
               interactions between biomolecules; such as identification
               and characterization of ligand binding sites to a host
               macromolecule. We present a novel technique, which extracts
               potential binding sites, represented by cavities, and
               characterize them by 3D graphs and by amino acids. The
               binding sites are extracted using an implicit function
               sampling and graph algorithms. We propose an advanced cavity
               exploration technique based on the graph parameters and
               associated amino acids. Additionally, we interactively
               visualize the graphs in the context of the molecular
               surface. We apply our method to the analysis of MD
               simulations of Proteinase 3, where we verify the previously
               described cavities and suggest a new potential cavity to be
               studied.",
  month =      nov,
  issn =       "1471-2105",
  journal =    "BMC Bioinformatics",
  number =     "Suppl 19:S4 ",
  volume =     "14",
  pages =      "1--15",
  URL =        "https://www.cg.tuwien.ac.at/research/publications/2013/Viola_Ivan_2013_VCA/",
}