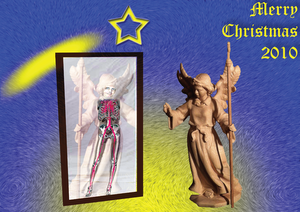 X-Mas 2010
Gabriel Mistelbauer
X-Mas 2010
[

card]
Information
Publication Type: X-Mas Card
Workgroup(s)/Project(s):
Date: 2010
Abstract
"Mirror mirror on the wall who is the master of them all?!" The background of this card is a flow visualization of a hurricane data-set, which is rendered using Line Integral Convolution. The pulmonary and the human lower extremity data-sets are rendered with Maximum Intensity Projection in the AngioVis Toolbox. The vessels have been detected using multi-scale analysis.
"Spieglein Spieglein an der Wand wer ist der Meister im ganzen Land?!" Der Hintergrund dieser Karte ist eine Strömungsvisualisierung von einem Hurricane Datensatz, welcher mit Hilfe von Line Integral Convolution dargestellt wird. Die Datensätze einer Lunge und die der Beine eines Menschen werden im AngioVis Programm mittels Maximum Intensity Projection gerendert. Die Adern sind mittels Multi-scale Analysis detektiert worden.
Additional Files and Images
Weblinks
No further information available.
BibTeX

@xmascard{xmas-2010,
  title =      "X-Mas 2010",
  author =     "Gabriel Mistelbauer",
  year =       "2010",
  abstract =   ""Mirror mirror on the wall who is the master of them
               all?!" The background of this card is a flow visualization
               of a hurricane data-set, which is rendered using Line
               Integral Convolution. The pulmonary and the human lower
               extremity data-sets are rendered with Maximum Intensity
               Projection in the AngioVis Toolbox. The vessels have been
               detected using multi-scale analysis.  "Spieglein Spieglein
               an der Wand wer ist der Meister im ganzen Land?!" Der
               Hintergrund dieser Karte ist eine
               Str\"{o}mungsvisualisierung von einem Hurricane Datensatz,
               welcher mit Hilfe von Line Integral Convolution  dargestellt
               wird. Die Datens\"{a}tze einer Lunge und die der Beine eines
               Menschen werden im AngioVis Programm mittels Maximum
               Intensity Projection gerendert. Die Adern sind mittels
               Multi-scale Analysis detektiert worden.",
  URL =        "https://www.cg.tuwien.ac.at/research/publications/2010/xmas-2010/",
}