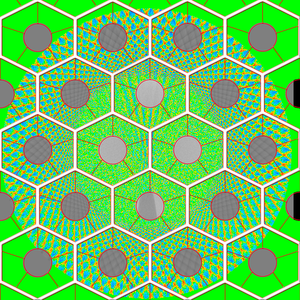 Information
Publication Type: Technical Report
Workgroup(s)/Project(s):
Date: December 2008
Number: TR-186-2-08-12
Keywords: Multi-Datasets, Industrial Computed Tomography, MPR, Visualization
Abstract
This paper proposes comparison and visualization techniques to carry out parameter studies for the special application area of dimensional measurement using 3D X-ray computed tomography~(ICT). A dataset series is generated by scanning a specimen multiple times by varying parameters of an industrial CT device. A high resolution series is explored using our multi-planar reformating (MPR) based exploration system. We present an evaluation system~(multi-image view) and an edge explorer for comparison and visualization of grey values and edges of several datasets simultaneously. Visualization results and quantitative data are displayed side by side. For fast data retrieval and convenient usability we use bricking of the datasets, and efficient data structures. Graphics hardware is used for interactive visualization. We studied the applicability of our proposed visualization techniques in collaboration with our company partners.
Additional Files and Images
Additional images and videos
Additional files
Weblinks
No further information available.
BibTeX

@techreport{TR-186-2-08-12,
  title =      "Visual Exploration for Parameter Studies of Industrial CT
               Dataset Series",
  author =     "Muhammad Muddassir Malik and Christoph Heinzl and Meister
               Eduard Gr\"{o}ller",
  year =       "2008",
  abstract =   "This paper proposes comparison and visualization techniques
               to carry out parameter studies for the special application
               area of dimensional measurement using 3D X-ray computed
               tomography~(ICT). A dataset series is generated by scanning
               a specimen multiple times by varying parameters of an
               industrial CT device. A high resolution series is explored
               using our multi-planar reformating (MPR) based exploration
               system. We present an evaluation system~(multi-image view)
               and an edge explorer for comparison and visualization of
               grey values and edges of several datasets simultaneously.
               Visualization results and quantitative data are displayed
               side by side. For fast data retrieval and convenient
               usability we use bricking of the datasets, and efficient
               data structures. Graphics hardware is used for interactive
               visualization. We studied the applicability of our proposed
               visualization techniques in collaboration with our company
               partners. ",
  month =      dec,
  number =     "TR-186-2-08-12",
  address =    "Favoritenstrasse 9-11/E193-02, A-1040 Vienna, Austria",
  institution = "Institute of Computer Graphics and Algorithms, Vienna
               University of Technology ",
  note =       "human contact: technical-report@cg.tuwien.ac.at",
  keywords =   "Multi-Datasets, Industrial Computed Tomography, MPR,
               Visualization",
  URL =        "https://www.cg.tuwien.ac.at/research/publications/2008/TR-186-2-08-12/",
}