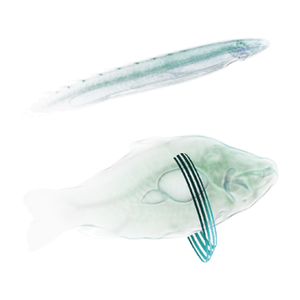 Caricaturistic Visualization
Peter Rautek
,
Ivan Viola
,
Meister Eduard Gröller
Caricaturistic Visualization
IEEE Transactions on Visualization and Computer Graphics
, 12(5):1085-1092, November 2006.
[

paper]
Information
Publication Type: Journal Paper with Conference Talk
Workgroup(s)/Project(s):
Date: November 2006
Date (from): October 2006
Date (to): November 2006
Event: IEEE Visualization 2006
ISSN: 1077-2626
Journal: IEEE Transactions on Visualization and Computer Graphics
Lecturer: Peter Rautek
Location: Baltimore, USA
Number: 5
Pages (from): 1085
Pages (to): 1092
Volume: 12
Keywords: Focus+Context Techniques, Volume Visualization, Illustrative Visualization
Abstract
Caricatures are pieces of art depicting persons or sociological conditions in a non-veridical way. In both cases caricatures are referring to a reference model. The deviations from the reference model are the characteristic features of the depicted subject. Good caricatures exaggerate the characteristics of a subject in order to accent them. The concept of caricaturistic visualization is based on the caricature metaphor. The aim of caricaturistic visualization is an illustrative depiction of characteristics of a given dataset by exaggerating deviations from the reference model. We present the general concept of caricaturistic visualization as well as a variety of examples. We investigate different visual representations for the depiction of caricatures. Further, we present the caricature matrix, a technique to make differences between datasets easily identifiable.
Additional Files and Images
Additional images and videos
Additional files
Weblinks
No further information available.
BibTeX

@article{Rautek06Vis,
  title =      "Caricaturistic Visualization",
  author =     "Peter Rautek and Ivan Viola and Meister Eduard Gr\"{o}ller",
  year =       "2006",
  abstract =   "Caricatures are pieces of art depicting persons or
               sociological conditions in a non-veridical way. In both
               cases caricatures are referring to a reference model. The
               deviations from the reference model are the characteristic
               features of the depicted subject. Good caricatures
               exaggerate the characteristics of a subject in order to
               accent them. The concept of caricaturistic visualization is
               based on the caricature metaphor. The aim of caricaturistic
               visualization is an illustrative depiction of
               characteristics of a given dataset by exaggerating
               deviations from the reference model. We present the general
               concept of caricaturistic visualization as well as a variety
               of examples. We investigate different visual representations
               for the depiction of caricatures. Further, we present the
               caricature matrix, a technique to make differences between
               datasets easily identifiable.",
  month =      nov,
  issn =       "1077-2626",
  journal =    "IEEE Transactions on Visualization and Computer Graphics",
  number =     "5",
  volume =     "12",
  pages =      "1085--1092",
  keywords =   "Focus+Context Techniques, Volume Visualization, Illustrative
               Visualization",
  URL =        "https://www.cg.tuwien.ac.at/research/publications/2006/Rautek06Vis/",
}