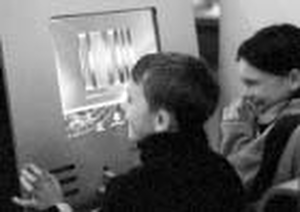 Learning from Interactive Museum Installations
Eva Hornecker, Matthias Stifter
Learning from Interactive Museum Installations
In
OzCHI
. November 2006.
[

paper]
Information
Publication Type: Conference Paper
Workgroup(s)/Project(s): not specified
Date: November 2006
Address: New York, NY, USA
Booktitle: OzCHI
Date (from): 20. November 2006
Date (to): 24. November 2006
Lecturer: Matthias Stifter
Location: Sydney, Australia
Organization: CHISIG
Publisher: ACM Press
Keywords: Information interfaces, Information presentation
Abstract
This paper reports on the evaluation of a digitallyaugmented exhibition on the history of modern media. We discuss visitors' interaction with installations and corresponding interaction design issues, drawing on results from analysis of logfiles, interviews, and observation in the museum. We see this as an exploration into interaction design of interactive installations for public settings, using the evaluation as a case study on what makes an installation engaging and how it can provide an engaging experience for groups.
Additional Files and Images
Weblinks
No further information available.
BibTeX

@inproceedings{Hornecker-2006-OzCHI,
  title =      "Learning from Interactive Museum Installations",
  author =     "Eva Hornecker and Matthias Stifter",
  year =       "2006",
  abstract =   "This paper reports on the evaluation of a digitallyaugmented
               exhibition on the history of modern media. We discuss
               visitors' interaction with installations and corresponding
               interaction design issues, drawing on results from analysis
               of logfiles, interviews, and observation in the museum. We
               see this as an exploration into interaction design of
               interactive installations for public settings, using the
               evaluation as a case study on what makes an installation
               engaging and how it can provide an engaging experience for
               groups.",
  month =      nov,
  address =    "New York, NY, USA",
  booktitle =  "OzCHI ",
  location =   "Sydney, Australia",
  organization = "CHISIG",
  publisher =  "ACM Press",
  keywords =   "Information interfaces, Information presentation",
  URL =        "https://www.cg.tuwien.ac.at/research/publications/2006/Hornecker-2006-OzCHI/",
}