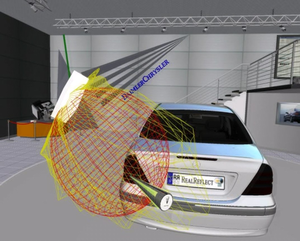 Approximating Real-World Luminaires with OpenGL Lights
Georg Zotti
,
Attila Neumann
,
Werner Purgathofer
Approximating Real-World Luminaires with OpenGL Lights
In
WSCG 2005 Short Paper Proceedings
, pages 49-52. February 2005.
[

]
Information
Publication Type: Conference Paper
Workgroup(s)/Project(s):
Date: February 2005
Address: Plzen
Booktitle: WSCG 2005 Short Paper Proceedings
Date (from): 1. February 2005
Date (to): 3. February 2005
Editor: Vaclav Skala
ISBN: 80-903100-9-5
Location: Plzen
Note: only on conference CD-ROM
Organization: University of West Bohemia
Pages (from): 49
Pages (to): 52
Publisher: UNION press
Keywords: interactive illumination planning, OpenGL, Real-world luminaires
Abstract
Dynamic illumination in real-time applications using OpenGL is still usually done with the classical light forms of point lights, directional lights and spot lights. For applications simulating real-world scenes, e.g. architectural planning, finding parameter sets for these simple lights to match real-world luminaires is required for realistic work. This paper describes a simple approach to process a luminaire data file in IESNA IES-LM63-95 format to create an approximation using at most 2 OpenGL lights to represent one luminaire.
Additional Files and Images
Additional images and videos
Additional files
Weblinks
No further information available.
BibTeX

@inproceedings{zotti-2005-lum,
  title =      "Approximating Real-World Luminaires with OpenGL Lights",
  author =     "Georg Zotti and Attila Neumann and Werner Purgathofer",
  year =       "2005",
  abstract =   "Dynamic illumination in real-time applications using OpenGL
               is still usually done with the classical light forms of
               point lights, directional   lights and spot lights.  For
               applications simulating real-world   scenes, e.g.
               architectural planning, finding parameter sets for   these
               simple lights to match real-world luminaires is required for
                 realistic work. This paper describes a simple approach to 
                process a luminaire data file in IESNA IES-LM63-95 format
               to create   an approximation using at most 2 OpenGL lights
               to represent one   luminaire.",
  month =      feb,
  address =    "Plzen",
  booktitle =  "WSCG 2005 Short Paper Proceedings",
  editor =     "Vaclav Skala",
  isbn =       "80-903100-9-5",
  location =   "Plzen",
  note =       "only on conference CD-ROM",
  organization = "University of West Bohemia",
  publisher =  "UNION press",
  pages =      "49--52",
  keywords =   "interactive illumination planning, OpenGL, Real-world
               luminaires",
  URL =        "https://www.cg.tuwien.ac.at/research/publications/2005/zotti-2005-lum/",
}