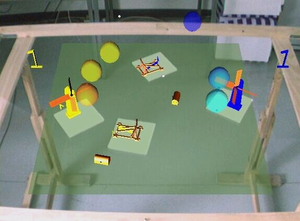 Tangible Augmented Reality for Computer Games
Christiane Ulbricht
,
Dieter Schmalstieg
Tangible Augmented Reality for Computer Games
TR-186-2-03-02, February 2003
[

paper]
Information
Publication Type: Technical Report
Workgroup(s)/Project(s): not specified
Date: February 2003
Number: TR-186-2-03-02
Keywords: User Interface Design, 3D-Interaction, Tangible User Interface, Augmented Reality
Abstract
In this paper we attempt to demonstrate that Tangible Augmented Reality is a highly effective environment for certain types of multiplayer computer games. We show the usefulness of this user interaction paradigm through both theoretical argumentation and presentation of our prototype system. During the development of this system we evaluated several variants of the interaction techniques necessary for the game, and we discuss the relative merits of some of them in this paper.
Additional Files and Images
Additional images and videos
Additional files
Weblinks
No further information available.
BibTeX

@techreport{Ulbricht-2003-TanX,
  title =      "Tangible Augmented Reality for Computer Games",
  author =     "Christiane Ulbricht and Dieter Schmalstieg",
  year =       "2003",
  abstract =   "In this paper we attempt to demonstrate that Tangible
               Augmented Reality is a highly effective environment for
               certain types of multiplayer computer games. We show the
               usefulness of this user interaction paradigm through both
               theoretical argumentation and presentation of our prototype
               system. During the development of this system we evaluated
               several variants of the interaction techniques necessary for
               the game, and we discuss the relative merits of some of     
                           them in this paper.",
  month =      feb,
  number =     "TR-186-2-03-02",
  address =    "Favoritenstrasse 9-11/E193-02, A-1040 Vienna, Austria",
  institution = "Institute of Computer Graphics and Algorithms, Vienna
               University of Technology ",
  note =       "human contact: technical-report@cg.tuwien.ac.at",
  keywords =   "User Interface Design, 3D-Interaction, Tangible User
               Interface, Augmented Reality",
  URL =        "https://www.cg.tuwien.ac.at/research/publications/2003/Ulbricht-2003-TanX/",
}