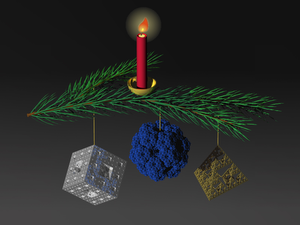 Information
Publication Type: X-Mas Card
Workgroup(s)/Project(s):
Date: 1994
Abstract
This picture was modelled with L-Systems and rendered by FLIRT, one of the research raytracers developed at the institute at the beginning of the 1990s. Creator of this image was Chris Traxler, who implemented the cyclic graph c apabilities necessary for the display of grammar-based objects.
Additional Files and Images
Additional images and videos
Additional files
Weblinks
No further information available.
BibTeX

@xmascard{xmas-1994,
  title =      "X-Mas 1994",
  author =     "Christoph Traxler",
  year =       "1994",
  abstract =   "This picture was modelled with L-Systems and rendered by
               FLIRT, one of the research raytracers developed at the
               institute at the beginning of the 1990s. Creator of this
               image was Chris Traxler, who implemented the cyclic graph c
               apabilities necessary for the display of grammar-based
               objects.",
  URL =        "https://www.cg.tuwien.ac.at/research/publications/1994/xmas-1994/",
}