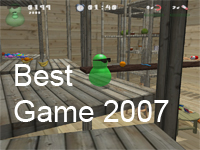 LU Computergraphik 2
Hall Of Fame 2007
LU Computergraphik 2 SS 2.0, 186.124
(früher: 186.153)
LU Computergraphik 3 SS 2.0, 186.725
Best of 2007
The winning teams are...
Name of the Game
Teams
Remarks und Downloads



1st: Blobby in a Box

Glatz Markus
Tompa-Antal Lorand

Eat everything you find, but beware: the clock reaches zero sooner as you think.

Download
Homepage



2nd: Blocks

Winklhofer Christoph
Weber Thomas

A nice looking jump and run in 3d, with some nice physics interactions.

Download
Homepage



3rd: Flab

Jakubowicz David
Knecht Wolfgang

Play a soft, solid or flying character and try to reach the end of nice levels!

Download



3rd: Keep on Rolling

Bagar Florian
Kaltenriner Christoph

Drive your marble through marvellous levels, but beware, it's difficult!

Download
Incredible Games
Name of the Game
Teams
Remarks und Downloads
Battle Chess Reloaded
Keszthelyi Laszlo
Novotny Cornelia
Widholm Michael

A fully functional chess with nice battle animations.

Download
Battleaxe
Bruckner Martin
Arikan Murat

Panzer battle in the desert. Named after the famous BF1942 map.

Download
BSG The 13th Tribe
Askari Albors
Patronas Alexander

A nice space shooter in the world of BSG.

Download
Deathmachine
Felkel Wolfgang
Seydl Michael
Lenzhofer Andreas

You know the fim? You will be surprised.

Download
Destination Earth
Grünling Manfred
Gross Roland

Come back home, in order to save us from the enemy.

Download
Dragon WarrioR
Wagner Martin
Wendelin Katharina-Anna

Watch out for the dragon.

Download
Fish Salad
Kinkelin Martin
Liensberger Christian

Hungry?

Download
Graviton
Wei§ Michael
Molzer Georg

Rember Wipeout? Remember its techno?

Download
Hau das Sparschwein
Marco Ross
Matrin Schönberger

Whatch out for the pigs, some are dangerous

Download
Irvania
Fritsch Barbara
Reiterer Martin

Roll your marble through some nice looking levels.

Download
Kabu's Journey
Gschwandtner Fritz-Michael
Hebart Gabriele

Find your way through space levels and fight against your enemies.

Download
Leet Speed Space Racer
Domanski Michal
Hanzl Michael
Muck Michael

Beware of the Bloom!

Download
MosquitOps
Hörbinger Oliver
Mautner Markhof Clemens

Search for humans in order to survive.

Download
Homepage
Padoix
Flucka Martin
Grosse Karl

The classical breakout ported to 3d.

Download
Quadron 3D
Pirpamer Hansjörg
Markus Martin

A board-game ported to 3d, with some nice character animations.

Download
Seifenkistenrennen
Zweng Andreas
Gurbat Roman

A race against time.

Download
SuperJ
Elmo Heinz Christian

Adventure with a shizophrenic Hero.

Download
Ultimate Airrace
Reitschmied Roman
Wilhelm Jakob

Air racing in comic look.

Download
Cool Games
Name of the Game
Teams
Remarks und Downloads
3Dicewars
Zöchling Thomas

Build stacks of cubes, and you will win.

Download
Badro's Labyrinth
Karaszek Jakob
Mihalik Peter

Find your way through the labyrinth ... on each side of the cube.

Download
Bee Cool
Grashäftl Florian
Posset Jorit

As a bee, do what bees have to do. With fancy music.

Download
E.G.O. Shooter
Barth Martin
Breinbauer Benedikt
Dörflinger Marco

Shoot your bullets around the world, but don't hit yourself.

Download
Enemy of James Bond
Dinhobl Erhard
Reiterer Stefan

Try to flee from the bad boys.

Download
Hover The Word
Michael Birsak
Heil Erich

A hovercraft racing game with splitscreen support.

Download
Killerbälle
Flei§ Felix
Pardo Daniel

A ball rolling adventure with fighting sequences.

Download
PacSheep
Brenner Cornelia
Zeintlinger Matthias

Think of pacman in 3d without pacman but a sheep.

Download
Revellers
Ghodrat Gian
Heingärtner Thomas
Vorlaufer Peter

Bring them home ... alive.

Download
The Day After The End
Nedeljkovic Milan
Berlakovich Martin

A dungeon shooter.

Download
The lonely Shepherd
Bretschneider Andreas
Holzkorn Peter
Tintel Martin

Protect your sheeps.

Download
Posters of 2007
Click on the image to enlarge it.