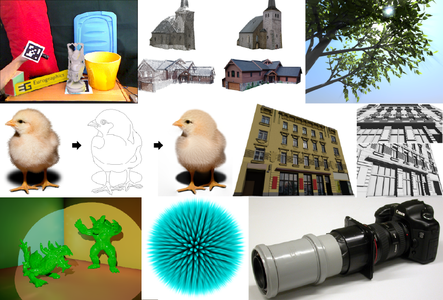 Course Information and NEWS
REGISTRATION: Please register in TISS before the initial meeting. You will be enrolled in the seminar if you submit a list of literature covering your chosen topic until 26.03.2018.
INITIAL MEETING: (Vorbesprechung) for SS 2018 is on Tuesday 06.03.2018 10:00 - 11:00 in the seminar room 186 (Favoritenstr. 9-11/5.floor), where also research topics are presented and assigned. Slides of that meeting are available here.
FIRST PART OF COURSE: Beginning of March you have to attend three lectures including an exam, which has to be passed in order to continue with the second part listed here. This first part is organized separately and identical across the institutes, please refer to the TISS course page for all information.
COMMUNICATION: please use e-mail. Updates during the course are sent via email.
TOPICS ASSIGNMENT:
(topic, student, supervisor)

1 Reinforcement Learning in Graphics: Jakob Troidl (Károly Zsolnai-Fehér)
2 Neural Networks in Graphics: Jakob Ecker (Károly Zsolnai-Fehér)
3 Simulating Color Vision Deficiency: Linda Absenger (Katharina Krösl)
4 Crowd Simulations: Elias Marold (Katharina Krösl)
5 A Brief History of Real-Time Global Illumination: Florian Bayer, Amar Tahirovic (Hiroyuki Sakai)
6 Physically Based Camera Models: Negin Sadeghi (Hiroyuki Sakai)
7 3D Scanning Frameworks: Martin Novak (Philipp Erler)
8 Level-of-Detail Systems for Meshes: AVAILABLE (Philipp Erler)
9 Signed Distance Field Rendering: AVAILABLE (Christian Freude)
10 Image Quality Metrics: Omar Ismael, Cihan Saglam (Christian Freude)
11 MIP-mapping Normal Maps: Bernhard Parik (Johannes Unterguggenberger)
12 Real-Time Shadows: Bernhard Bayer (Johannes Unterguggenberger)
13 Particle Systems: Max Graf (Markus Schütz)
14 Real-Time Shader for "Elements": Magdy El Sadany, Christoph Essler (Markus Schütz)
15 LIDAR Data Classification: Rupert Schaffarz (Stefan Ohrhallinger)
Course Outline
Goal:
The goal of this seminar is to write and present a state of the art report. A member of the teaching staff will guide and help students in acquiring the scientific material and writing the report. The students are also expected to present their work in a 15 minutes talk.
Tasks for the students:
Teaching staff will evaluate and grade students based on the following output:
A list of literature that a student intends to review. This document will be regarded as an official seminar registration of the student.
Attendance of the lectures "Forschung und wie sie funktioniert" by Professor Eduard Gröller, the lecture "Wie halte ich einen Vortrag" by Professor Werner Purgathofer, and the lecture "Wie schreibt man eine wissenschaftliche Arbeit" by Professor Michael Wimmer. You can ask for a waiver in case you have already attended one of these talks.
A written state of the art report in the form of a scientific paper. We strongly encourage that the reports are composed in LaTeX. The report must have a minimum of 8 written pages (16 pages for groups of two students). The preferred language is English.
A 15 minutes presentation in English followed by a 5 minutes discussion.
Active discussion participation is expected after the presentation of other students.
Important Dates: (s.t. = sin tempore = punctual, c.t. = cum tempore = 15 minuten later):
06.03.2018: Initial meeting at 10:00 - 11:00 in the seminar room 186 (Favoritenstr. 9-11 / 5.floor). In this meeting the research topics will be presented and assigned to individual students or groups of students.
Beginning of March: Lectures and exam of first part, see TISS course page
26.03.2018: Submit list of literature. This will be regarded as the official seminar registration.
Attend the following lectures in the seminar room 186 (Favoritenstr. 9-11 / 5.floor:

10.04.2018 15:00 - 16:30 (s.t.): "Wie schreibt man eine wissenschaftliche Arbeit", by Professor Wimmer
25.04.2018 15:00 - 16:30 (s.t.): "Forschung und wie sie funktioniert", by Professor Gröller
15.05.2018 16:00 - 17:30 (s.t.): "Wie halte ich einen Vortrag", by Professor Purgathofer

07.05.2018: Submit a report draft.
14.05.2018: You will receive a report from another student for review with this review form.
21.05.2018: Submit the completed review to your supervisor and the organizer.
28.05.2018: You will receive two reviews of your draft (one from your supervisor and one from another student). Use the information provided in the reviews to update your report accordingly.
27.06.2018: Submit the slides for your presentation. The slides should be in Open-Office or Power-Point format. The slides will be copied on the presentation machine in the seminar room. No own devices will be allowed.
28.06.2018: Talks will be held from 09:00 - 15:00 in the seminar room 186 (Favoritenstr. 9-11 / 5.floor). Presence of the students is mandatory.
28.06.2018: Submit your final report.
Grading Criteria
Part 1 (the common part across all institutes) has to be passed and constitutes 17% of the grade. Part 2 (on this page) constitutes the remaining 83% of the grade and is itself split as follows:
The quality of the written report is worth 40% of the grade
The quality of the talk is worth 30% of the grade
The quality of the review is worth 20% of the grade
Active discussion participation is worth 5% of the grade
Attendance during the lectures is worth 5% of the grade
Plagiarism:
All the literature that is reviewed during the seminar has to be placed in the reference section of the report. You can have further information about referencing and examples of what is plagiarism
here
. We are all expected to abide by professional scientific ethics and make sure that the work is not plagiarized in any sense.
Downloads and Links
Downloads
Paper search engines
Tips for writing papers and preparing presentations