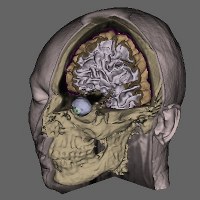 !!! Subscribe on TISS before 09.03.2018 at 13.00 !!!
Course Structure
The course consists of the following components:
Lectures: 7 sets, on Fridays 13.00-15.00 + Invited Lectures: 2 sets, on Fridays 13.00-16.00
Practicals: 7 sets, on Fridays 15.00-17.00
Final Projects: self-work between 14 May - 20 June
Location: Seminarraum 186, Favoritenstrasse 9, 5-th floor.
Assessment
The course will be assessed as follows:
Assignments: in total 4, done during the practicals = 20% of final grade
Final Project: in groups of 2-3 people = 40% of the final grade (30% report and 10% presentation)
Exam: 40% of the final grade (first exam will be written. If you miss it or fail it, oral on appointment)
You need a passing grade (50%) for each one of the three components above!
Schedule and Material
The course will be structured based on the book of B. Preim and C.P. Botha "Visual Computing for Medicine" (2nd ed.) ( http://medvisbook.com/).


Slides from the lectures (L) and the practical exercises + assignments (P) will be published here 1-2 days before the lecture days.


The exact schedule for the invited lectures and the presentations day will be uploaded later.
Final Projects
More information about the final projects will be uploaded soon.