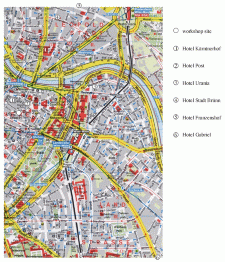 The hotels listed below were recommended. Some of them offered the reduced business rate for participants of VisSym '99. If you make your reservation at one of these hotels, please indicate clearly
``. . . that you participate at VisSym '99 and/or EGVE '99
which is held at the Austrian Academy of Sciences . . .''
to get this rate. See the map to the right for locations of the hotels listed.
Make your reservation as soon as possible. Experience tells us that May/June are the peak months in the tourist business in Vienna.
If you have any further questions or problems concerning accommodation feel free to contact emanuel.wenger@oeaw.ac.at.
If you would like to book in another hotel, you can use the following service: NetHotels Vienna. Information about events, museums, and other touristic attractions can be found on the web page of the Vienna Tourist Board, Wien online, and Austrian Federal Theatres.
---
[ VisSym '99 | CfP (lab visits) | instr. 4 authors | venue, traveling (acc.) | registr. (form) | program (abstr., trip) | photos (parts., acks.) ]
[ EUROGRAPHICS | IEEE TCVG | Inst. of Computer Graphics | Vienna Univ. of Technology ]

Emanuel Wenger & Helwig Löffelmann, 1998-1999, mailto:emanuel.wenger@oeaw.ac.at & mailto:helwig@cg.tuwien.ac.at.