Sections
Recent Articles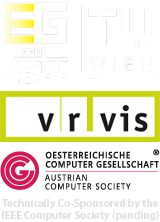 Venue Information
EuroVis 2012 will take place at the Tech Gate Vienna, which is a modern conference and research center. Is is located in Donau City district characterised by a dynamically growing, balanced urban structure. The Tech Gate is situated in immediate proximity to the Vienna International Centre, high-end office complexes and residential and recreational facilities. Both the Donauinsel (Danube Island) recreation area and the Danube River itself are within walking distance.
The Tech Gate Vienna can easily be reached by both public and private transport. With the U1 underground line you can reach the Tech Gate from Vienna's city center in approximately 8 minutes (a guide is given below). The Tech Gate Vienna can be reached by car via the Reichsbrücke and the A22 Donauufer Autobahn. The Vienna International Airport is only a 20 minute drive away. A detailed plan of the public transport system of Vienna is given here.
View
Tech Gate Vienna
in a larger map
1
Take the underground line U1 to station "Kaisermühlen / Vienna International Center". Use the exit "Schüttaustraße" to leave the station.
2
Go down the stairs to leave the station. Alternatively there is an elevator at the end of the platform.
3
Leave the station towards "Donaupark".
4
Outside the station turn right.
5
Cross the road to the stairs. Do not get run over by a bus!
6
Up the stairs, and follow the red tarmac. Turn left before the bright red stairs.