Description
Acquiring 3D models from scans has become pervasive by commodity devices but is still challenging since reconstruction methods suffer from various artefacts in the final model, such as non-manifold triangles and holes. We are trying to fix these issues, with a focus on hole filling, with approaches that take advantage of the point cloud input and connectivity spanning across holes.
Tasks
Implement mesh repair algorithms on point cloud reconstruction output of our SIGDT algorithm [1] adapted to 3D:
research methods of mesh repair and hole filling, with a focus on using the additional non-manifold geometry [BA/PR/MA]
implement (if needed) and evaluate promising such methods [BA/PR/MA]
design and implement your own method based on the above [MA]
Requirements
Knowledge of English language (source code comments and final report should be in English)
Knowledge of C++ (mandatory) and CGAL (preferred).
***A bonus of €500/1,000 if completed to satisfaction within an agreed time-frame of 6/12 months (PR/BA or DA).
Responsible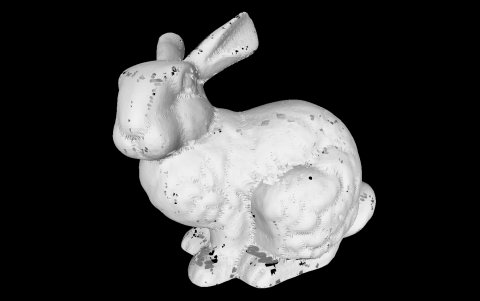 Details
Type
Bachelor Thesis
Student Project
Master Thesis