Description
There are multiple commercial hand tracking solutions for VR (e.g., LeapMotion, Oculus Quest, HTC Vive Pro), but there exists no in-depth comparison.
Tasks
Create a virtual experimentation environment that allows direct manipulation of virtual objects (with hands). 
Define evaluation parameters for tracking performance and collect ground truth measurements for comparison (e.g., with Vive Tracker).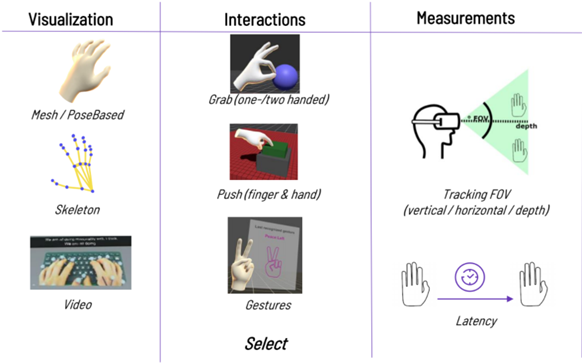 Requirements
Knowledge of Unity/C# is advantageous
Prior experience with VR is advantageous
Environment
The project should be implemented in Unity using HTC Vive, LeapMotion, Oculus Quest.
Responsible
For more information please contact Tiare Feuchtner,

Dennis Reimer

📧 (Hochschule Ravensburg-Weingarten).