Description
In this topic, we would like to explore the concept of co-embodiment, the possibility for two or more VR users to be embodied into the same virtual avatar and to control its movements simultaneously. Recent experiments on co-embodiment focused on simultaneously controlling reaching and grabbing movements of an avatar. In this topic, we aim to go further and to explore the full range of co-embodied motions, from grabbing objects to moving the upper body to walking.
Within this topic, we focus on two types of avatars separately:
Human-like avatars: to control them, real movements of two or more users will need to be fused together. A concept for such fusion is demonstrated in the header image, from R. Fribourg et al., "Virtual Co-Embodiment: Evaluation of the Sense of Agency While Sharing the Control of a Virtual Body Among Two Individuals," in IEEE Transactions on Visualization and Computer Graphics, vol. 27, no. 10, pp. 4023-4038, 1 Oct. 2021, doi: 10.1109/TVCG.2020.2999197.
Non-humanoid or partially-humanoid avatars (multiple pairs of arms and legs, several heads, tentacles, tails - whatever you would like to contribute): here, each user might be responsible for controlling separate parts of the non-human avatar, with the full avatar motion being achieved only when all users contribute
We expect one student to work on the human-like co-embodied avatar and one student on the non-human avatar.
Tasks
Literature research on embodiment and co-embodiment in VR
Design of a human-like avatar or a non-human like avatar
Design and implementation of methods for two (or more) users to be embodied into this avatar and to control its movements simultaneously
Requirements
Knowledge of Unity3D
Previous experience of developing VR applications and especially multiplayer VR applications is advantageous
Environment
Unity3D
Responsible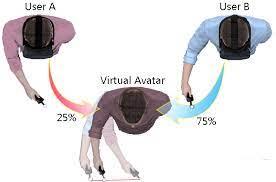 Details
Type
Bachelor Thesis
Student Project