Description
Digital elevation models (DEMs) are getting increasingly more detailed. For instance, the entire land surface of Austria is available with a resolution of 1x1 meters (and sometimes even more). This resolution is a number of magnitude higher than DEMs used by commercial 3D map applications, for example Google Earth. We can render these highly detailed models in real-time to let users interactively fly through Austria's mountainscape and inspect the terrain in great detail. This opens up ample opportunities for interesting applications, such as tour planning on a level of detail that has not been possible with lower resolution and therefore highly smoothed elevation models.
Tasks
In this work, a student should design and implement an effective and aesthetic visualization of hiking routes in such a 3D environment. A special focus will lie on occlusion management, e.g., when parts of a hike are on the backside of a mountain or lead through a dense forest. 
The specific tasks will be scaled to the type of project (BA / PR / DA). 
Requirements
Strong interest in web-based visualization and rendering
Very good programming skills
Experience with web technologies (JavaScript, WebGL, ...) advantageous
Environment
The current prototype is implemented in JavaScript and WebGL. 
Outdoor enthusiasts are very welcome and in good company!
Responsible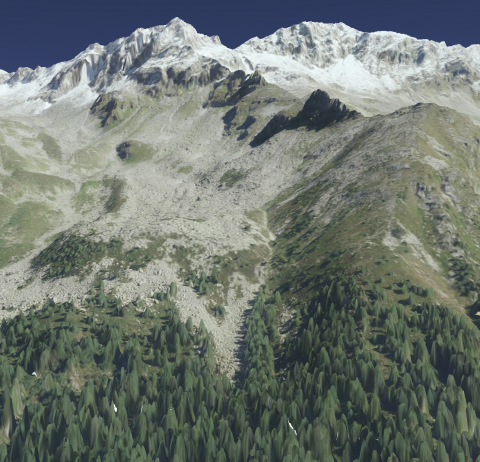 Details
Type
Bachelor Thesis
Student Project
Master Thesis