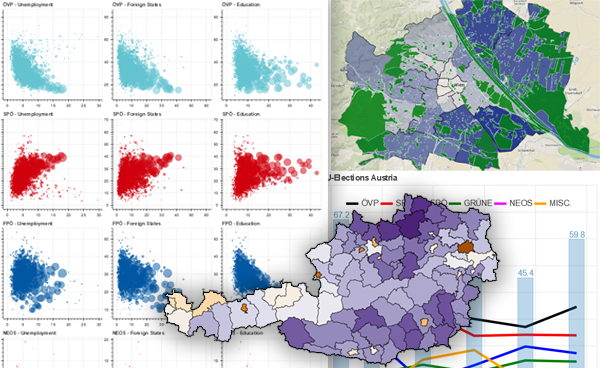 News
InfoVis lab is offered again in summer semester 2020!
The introduction (together with InfoVis VO) taskes place on March 11th 2020, 15:00 c.t. in lecture hall EI4!
IMPORTANT: in case we need to have any last minute changes to the introductory lectures or any other lecture due to the corona virus, we will announce these changes in TUWEL! Please, register to the TUWEL online course now!
Information
How to register for InfoVis lab:
Non-binding registration via TISS
Obligatory registration through first submission via TUWEL
Content:
We will provide a dataset, which should be visualized and analyzed. You get to know different visualization tools (
d3
,
matplotlib
,
bokeh
), data manipulation tools (
Pandas
,
scikit-learn
), and create small exercises using JavaScript and Python notebooks (
Jupyter
or
Google Colab
). Finally, a more detailed analysis using any visualization tool should be conducted in a group work (see results
from the previous year
). We provide multiple open labs and a Q & A for questions and problems. Details can be found on
TUWEL
.
Grading:
The grade is assigned based on the submissions (i.e., the implementation and the result of the data analysis), the presentation of the analysis, and a submission talk.
Links
Related lectures
186.141, VO Informationsvisualisierung
; Kresimir Matkovic et al.
186.833, VU Visualisierung 2
; Eduard Gröller et al.
186.868, VU Visual Data Science
; Johanna Schmidt
188.305, VU Informationsvisualisierung
; Silvia Miksch
186.105, VU Visualisierung medizinischer Daten 1
; Milos Sramek & Renata Raidou
186.138, VU Visualisierung medizinischer Daten 2
; Renata Raidou & Eduard Gröller
186.160, VO Farbe
; Werner Purgathofer
Central European Seminar on Computer Graphics
; Michael Wimmer, Martin Ilcik