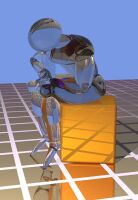 Diplomarbeitsposter
Important Information
The faculty page on
guidelines
for diploma theses and posters contains all information on:
General hints for poster creation and design
Faculty poster templates
Poster registration
Note that you have to hand in the poster both via the faculty poster registration system as PDF, as well as a printed version, which needs to be signed by your thesis advisor. You also have to hand in a PDF-version for our publication database.
General hints
Here are some more hints for poster creation in German:
Aufgabenstellung und Lösungsansatz/-idee müssen sofort und deutlich erkennbar sein. Besonders die Problemstellung sollte möglichst klar und bildlich demonstriert sein, so dass sie auch ein nicht-Computergraphiker auf den ersten Blick verstehen kann.
Was ist das Ergebnis der Diplomarbeit (Resultate)?
Mindestschriftgröße so, dass man es aus 3 Meter Entfernung noch lesen kann!
Kontakt-Angabe: an wen wende ich mich, wenn ich mich für das Thema näher interessiere?, z.B. rechts unten.
Betreuer und betreuender Assistent müssen im Poster-Kopf stehen.
alle Einrichtungen, die bei der DA-Erstellung eine Rolle gespielt haben, müssen oben erwähnt sein, z.B. VRVis, AKH, ÖAW, etc.
Ausdruck eher heller als dunkler
Text immer in Spaltenform arrangieren.
Wenig Text!
Viele Bilder!
Merke: das ganze ist ein Poster und kein Aufsatz. Mehr an einem Plakat orientieren, als an einer Zeitung.
Poster Templates
The following templates are examples of how to create a poster with institute logo. They are based on the faculty template (state: November 2011). Please note that the layout, style and color of the text boxes are just one example taken from one specific thesis. They will most certainly not make sense for your thesis in this form, therefore you have to adapt the layout to your needs. Please look at the posters stored in our database of
former diploma theses
for some ideas for a nice layout.
Note that since Adobe Illustrator files are PDF-compatible, the PDF-file is just the renamed AI-file.
For reference, you can also take a look at our old poster template in AI or PDF format.