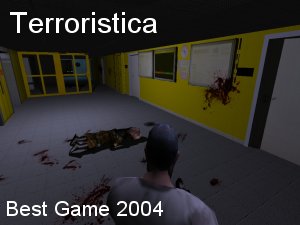 LU Computergraphik 2 & 3
Hall Of Fame 2004
LU Computergraphik 2 SS 2.0, 186.124
(früher: 186.153)
LU Computergraphik 3 SS 2.0, 186.725
Best of 2004
The winning teams are...
Name of the Game
Teams
Remarks und Downloads



1st: Terroristica

Reinalter Stefan
Rieckh Jakob

Fight terrorists in an authentic virtual version of the TU Freihaus, and protect Professor B.! Amazing game featuring shadow mapping, bumpmapping and great lighting!

Download (113 MB)
(Note: Currently only works with NVIDIA cards)



2nd: Im Auge des Drachen

Muigg Philipp
Stamminger Andreas

Fly a dragon and save your castle (and treasure) from the evil dwarves! This game is full of great effects, like reflective water using fragment programs, normal mapping, etc.

Download



2nd: Just Duke It!

Granzer Wolfgang
Praus Fritz

Great multiplayer motorcycle action! Shoot your opponents on an offroad terrain!

Download



2nd: Ack-Ack!

Berger Wolfgang
Buchetics Matthias

Round Based strategy game, featuring different unit types, level of detail terrain, and cel shading!

Download



2nd: Skydoo

Guerrero Paul
Kleber Florian
Schedenig Marian

How do you doo? This fast-paced futuristic racing game will make you addicted to speed - if you can stay on track! Also visit the game's homepage.

Download
Incredible Games
Name of the Game
Teams
Remarks und Downloads



Tequila Madness

Jelinek Helmut
Hartmann Alexander


This game in the spirit of the old Marble Madness features a lot of levels, retro atmosphere, and a very interesting cheat code :)

Download



Photonium

Karg Helmut
Machacek Christian
Siljak Nedzad


This game is more than the standard space shooter, it features a "command" mode where you can set waypoints and targets, and also has many greatlooking effects!

Download



H.I.A.S.

Fahrngruber Stefan
Lenz Gerald
Straka Karin


Burn Stadlposts and evade the evil H.I.A.S.!

Download



Pirates Ho!

Fahmy Tamer
Kosina Karin


In this Pirates Remake, you can bomb the other ship to bits on a split screen!

Download



Witchcraft

Hartl Phillip
Freiler Wolfgang


Build castles, cast magic, and fight mystical monsters and other witches! Very nice terrain engine!

Download



Asteroids 3D

Schnabl Sophie
Judt Christian
Jöbstl Roland


This is a remake of Asteroids but in 3D. As with the classic, your goal is to blow up all the asteroids, which break up into smaller parts when they are shot.

Download



Barrow Runner

Fuchs Matthias
Ecker Severin


This is a racing game of a different kind. Race your barrow to the pole position!

Download



Wings of Destiny

Wenigwieser Wolfgang
Kastler Florian


The classical Star Wars space shooter, this time with multiplayer splitscreen mode!

Download



b5

Gebhardt Hnikolaus
Gruber Bernhard
Meissl Andreas


Defeat evil clowns, who somehow look like dwarves with red noses. Nice glow effects!

Download



Boogie Nerds

Gschwendt Andreas
Klinger Andreas
Sokolar Michael


This is an unusual game that will be the most fun if played using Dance Pads!

Download



The Grand Theft

Kiraly Johannes
Pflugfelder Bernhard


Steal all the valuable items from a museum!

Download



The Brave Lad

Czermak Clemens
Scheiblauer Claus


In this hack'n'slay-like Role Playing game, your goal is to rescue the princess! Yes, again!

Download
Cool Games
Name of the Game
Teams
Remarks und Downloads



a

Markvica David
Marscher Mark


Classical sidescroller shooting game!

Download



Tu-Wan'Hudan - Looking Like Ghosts

Lessiak Marius
Oberhammer Simon


The computer version of the old indians vs cowboys game everyone played during childhood!

Download



Samurai X2: Kenji

Bucsics Thomas
Jell Matthias
Rudigier Sebastian


A Samurai sword fighting game where you can slay Link. Features dynamic interactive music.

Download



Double Trouble

Moritz Dietmar
Roch Benjamin


You have to use the skills of your two characters to solve the levels!

Download



Cocktail Chaos

Csisinko Mathis Mark
Knees Peter
Vill Maria


Help a bartender (who looks a lot like Super Mario) to get together the right ingredients for his cocktails!

Download



Burns

Froschauer Matthias
Froschauer Josef
Starl Erwin


This year's Simpsons game is an adventure. Help Homer get back his beer!

Download



Fat Goo's snowTrix

Maierhofer Daniel
Dorn Florian


Ride down a snow covered track, but beware of the trees!

Download



Destruction Racer

Brandorf Clemens
Maierhofer Andreas
Sattler Roland


A time challenge racing game with nice physics!

Download



Pang 3D

Bubestinger Peter
Kraner Florian


The 3D version of the bubble-shooter classic game Pang! It's more than one dimension harder than the original, though!

Download



Mission on Mars

Recheis Meinrad
Folie Christian
Schauer Stefan


Help the poor little ESA Mars Rover against the evil NASA Mars Rovers who steal its equipment!

Download



Flyer Boy

Matusek Florian
Sutor Stephan
Röhr Robert


A game simulating the hard work of the annoying flyer distributors that always obstruct your way in front of the Freihaus!

Download



Snowboard Style Contest

Haidacher Martin
Meindl Thomas
Staber Christoph


Try to achieve the most neckbreaking snowboard maneuvers in this game!

Download



Tuberacer

Pinter Bernd
Prosenc Robert


The yearly tube racer!

Download



Austrian Pie

Fritz Laura
Maricic Ivan


Help the cow get back its austrian pie.

Download



Twilight Dawn

Toromanoff Olivier


Space shooter with interesting rocket physics!

Download
This hall of fame was designed and created by
Michael Kalkusch
and Dey-Fuch Chiu
Posters of 2004
Click on the image to enlarge it.